Boston 2016 : LE compte rendu…

First visit
Plimoth Plantation
On Friday, the 14th of October, we went to the living museum called Plimoth Plantation about the 17th century. In this museum,we learnt more about the ways of life of the first Pilgrims. It is interesting to know what people thought or believed; we even talked to the Pilgrims (actors) : Steven Hopkins, his wife and his daughter and to Native Americans. So we learnt that four nations were represented there.
The most difficult thing was the trip on the Mayflower because a lot of people died, the journey was unpleasant, they had to board early, and they had to deal with the weather : storms, winds… The Pilgrims who were Puritans came to Plimoth in the year 1620. It was the first permanent residence of Europeans in New England.
The Mayflower II is a replica of the original ship which was a 16th century English merchant ship. It was an incredibly long trip on the Mayflower,they completed it in 66 days.
We met Steven Hopkins, a Pilgrim that came with his daughter to New England. At Plimoth Plantation, he told us that he saw animals such as cows, horses, goats, dogs and bears.
Steven Hopkins's daughter Constance came with him during the first trip, she was fourteen years old when she left England to come to New England.Her father left England because he had no land there.She wanted to be married because she could have a better position.
By Julie, Millie, David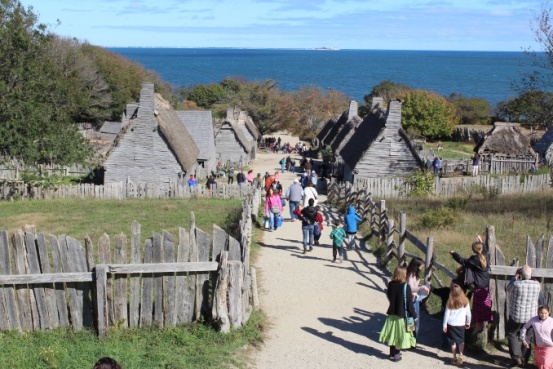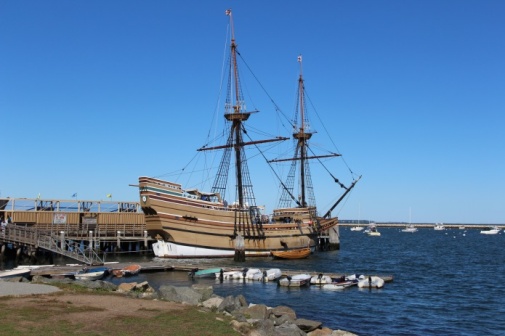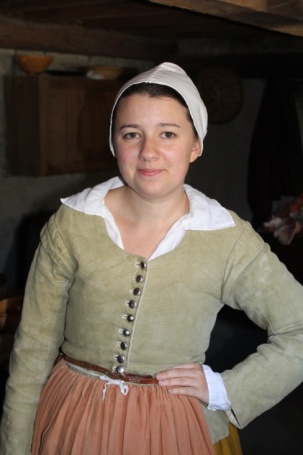 On October 14th, we went to the JFK Library near the city of Boston. We watched a film and looked at various documents about the 35th president of the United States of America. This museum is in the city where president Kennedy was born. The library is only open to students or researchers. Tourists can't read the books.
A lot of presidents have a museum to tell tourists about their lives, their results when they were president, and the people who were against their ideas and their government. It was great to see how the American citizens appreciate their former presidents.
By Clavie, Maëlle and Matthis.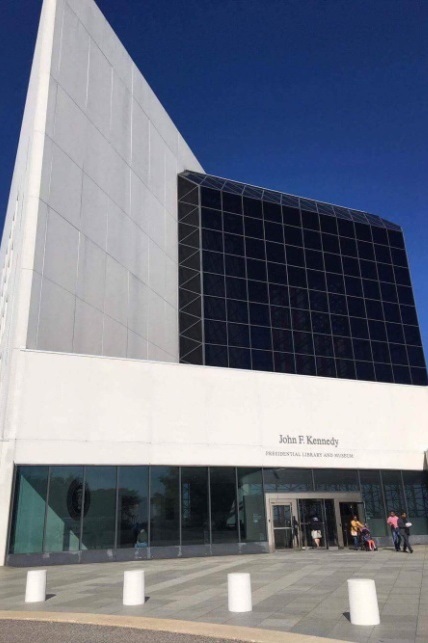 Second visit : New York
On the 17th of October, we had to leave earlier than the other days in order to go to New York City which took about four hours. We arrived at the end of the morning in Manhattan, at the MET which is the Metropolitan Museum of Art. When we walked in the streets, the impressive buildings made us feel we were in an another world.
Then we had lunch in Central Park between the squirrels and the trees. Mrs Ross brought us to St. Patrick's church, a famous place which is situated on 5th avenue. During a short free-time, we were allowed to go shopping. Then, the group took a walk from the Rockfeller Center to Times Square where we ate at « Planet Hollywood ». We saw New York by night, even if the lights of Times Square let us think otherwise. We had a wonderful panoramic view from the 86th floor of the Empire State Building. It was so peaceful compared to the lively atmosphere of the city. Then we left to go to the hotel, we were all thrilled by the day we had.
By Céleste RAMIS, Mathieu SAAD, Valentin MALASSIGNE-LEPICARD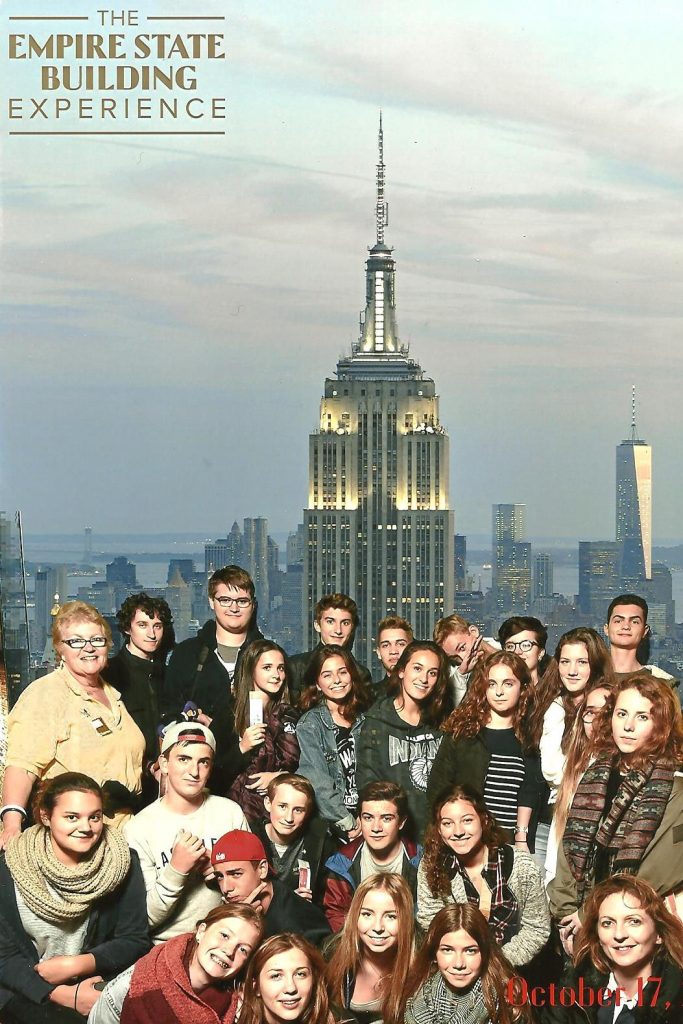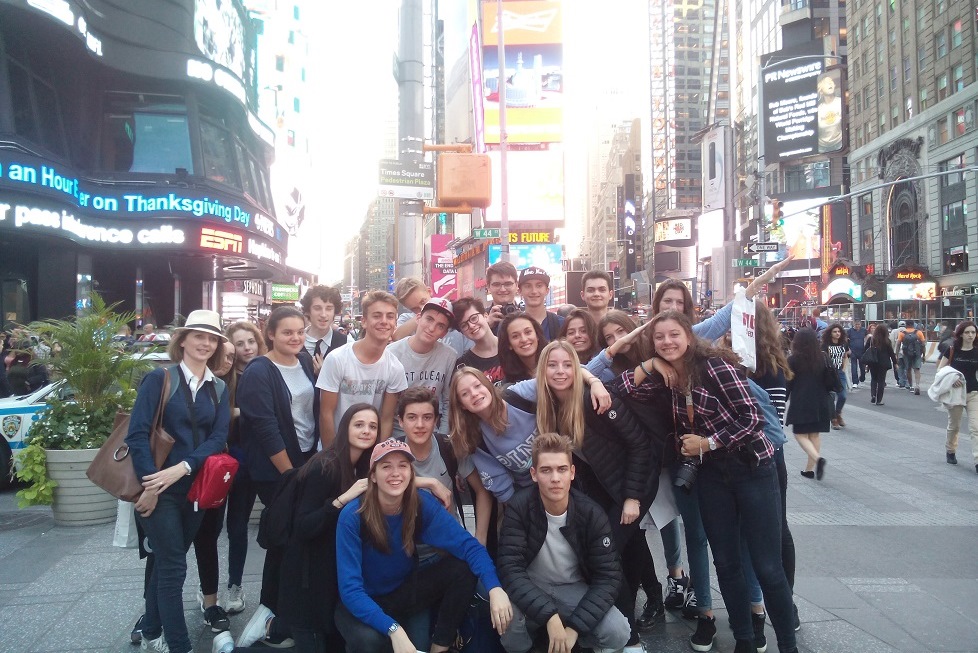 Third visit
On Tuesday morning, we left our hotel to go back to New-York. After one and a half hours of bus we arrived at the New World Trade Center where the Twin Towers used to be. That's a huge and amazing place which is a memorial for the 9/11 events. We saw the Statue of Liberty from New-York's docks and took some photos. Then we had a free time to eat and  half an hour later we took the bus to go to Wall Street :  it was just so impressive, so many buildings, we noticed that everyone was elegant. To finish this visit of New York, we went to Brooklyn Bridge. We left New-York  to go back to Billerica. We were very tired but so happy and we made lots of good memories of this city.
By Auguste and Camille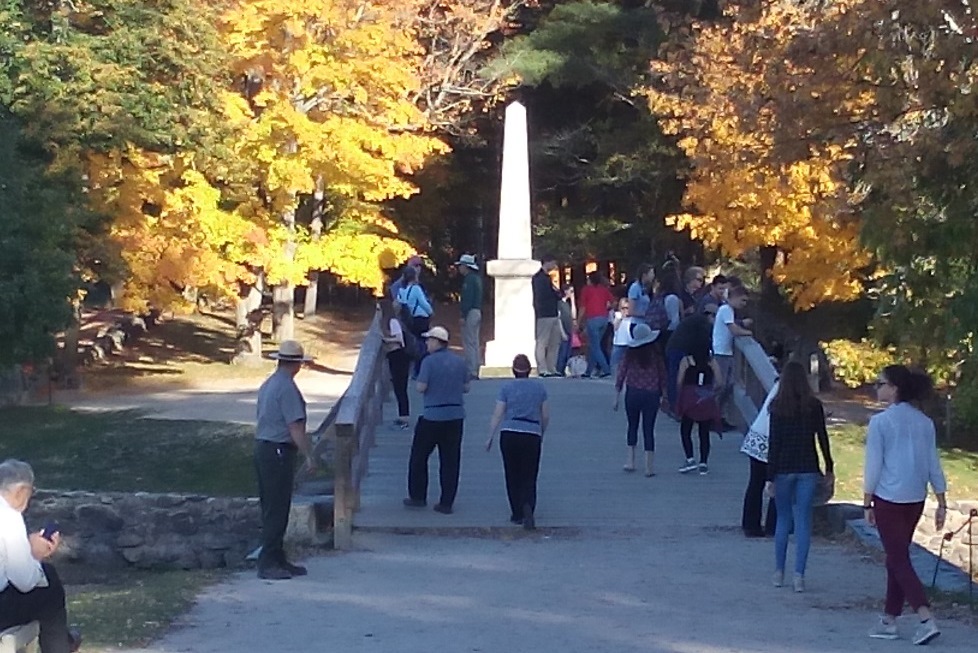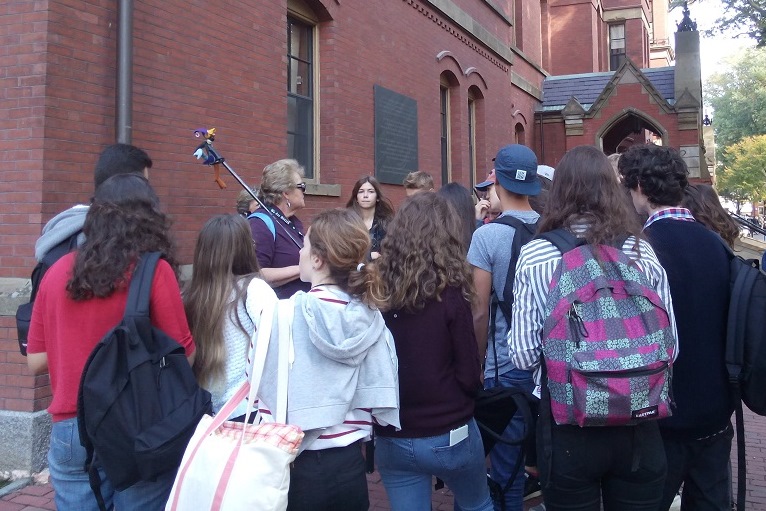 4th visit
On Wednesday, we visited Harvard one of the most famous and prestigious schools in the world. It is situated in Cambridge, Massachusetts. Harvard is the oldest school in the USA. It was founded in 1636 and was created to educate the Indians who lived there. The school is named Harvard after the name of the man who gave books to the school at the beginning. In the garden of the school, there is a statue of this man. This statue considered as the symbol of the school is also called  »the statue of the three lies ».
The first lie is that it's written that Harvard was the director of the school, however it's wrong. The second lie is about the date when Harvard gave the books to the school which he did in 1636 but not in 1638 as it is written.
The third lie is about what Harvard looked like. To explain this we need to do a little bit of history. In 1764 a student took a book from the library without permission to prepare a test at night and he wanted to bring it back the following morning but the library was burning and all the books were destroyed except the one taken by the student. The president of the university was really happy about this. However the student had to leave the school because he didn't respect the rules. Because of this fire nobody knows what Harvard looked like, because all the books that represented him were destroyed.
We also visited the room where the 1st-year students eat and it was really impressive. This room looks like the dining-room of Harry Potter. We learnt that, nowadays, a year in the school costs 70 000$ but it depends on the subjects (doctor or professor) and if you are a non-American student it can cost only 5 000 $ a year which is quite a lot but when you see the locals you think it's not so expensive. In a few words, we can say that Harvard is like a little town because there are many buildings, classrooms and facilities.
Then we went to MIT, which is the Massachusetts Institute of Technology in Cambridge. It's a university which is specialized in research and in technology. Furthermore, it's the university where the microwave, emails (by Ray Tomlinson in 1965) were created…
It is a big Institute in an old building. There is a huge hall at the entrance, with a cafeteria where some students were working when we visited the place.
Moreover, inside MIT there are a lot of long hallways where many posters are posted up. We stayed at the university for half an hour, in groups of three and we visited MIT by walking in it. We saw students who were doing experiments in some laboratories. It was a really nice experience because we were like students and we saw their university where a lot of technological innovations have been created !
Finally, this day in Cambridge was really interesting and we learned a lot about the American universities Harvard and MIT, thanks to our guide Mrs. ROSS !
By Ulysse and Anna
Today it's Wednesday, with all the French students we went to three different places in Boston. Firstly, we went to Harvard and MIT, two big world known universities. In the afternoon, we went to Lexington and Concord, where the first shots of the American War of Independence took place in 1775. This war opposed Great Britain to their 13 colonies in North America. We arrived at a little museum about this period. It's was so interesting ! Full of captivating texts about it. Mrs Ross, our guide, the place presented to us and invited us to sit in a little cinema where there was a nice setting. Big screens, lights, lighted maps, nice representations of the topic… Everything was done for the good understanding of the viewer. During all the projection, a virtual man was speaking to us with sound games in the room, he explained when, how and where the war happened. It was quite easy to understand. Subtitles helped us understand even better. After the film, we took the bus to go to Concord, more precisely next to a famous bridge, the North Bridge.
This is the place where British Soldiers opened fire on the colonists, on April 19th, 1775. This shot is said to be « heard round the world ». Nowadays, there is a memorial on this place. There is a statue too. It represents a « minute man », it's the name given to the colonists who swore they were ready to fight in the following minute. This is a very enjoyable place with a lot of multi-colored leaves and a beautiful little lake.
Then we took the bus to come back to Billerica. That was a very interesting day !
By Floriane, Marie-Charlotte, Antonin
5th visit
On Friday, the 21st of October, we went to Boston but unfortunately the weather wasn't good. We did the freedom trail. It's a famous way in Boston which goes by several monuments. To help us understand the meaning of them, we had to complete a questionnaire. We visited the Old North Church where Paul Revere's friends put two candles and he spread the alarm that the redcoats were coming. We walked through « Little Italy » which is a part of Boston. We also saw Paul Revere's house, the famous Faneuil Hall and Quincy Market where you can find a large choice of restaurants. We walked by the Boston Massacre site just in front of the gorgeous Old State House. We learnt a lot of things on the American system of government. Then it was the end of our visit and we came back to the high school.
By Emma, Thomas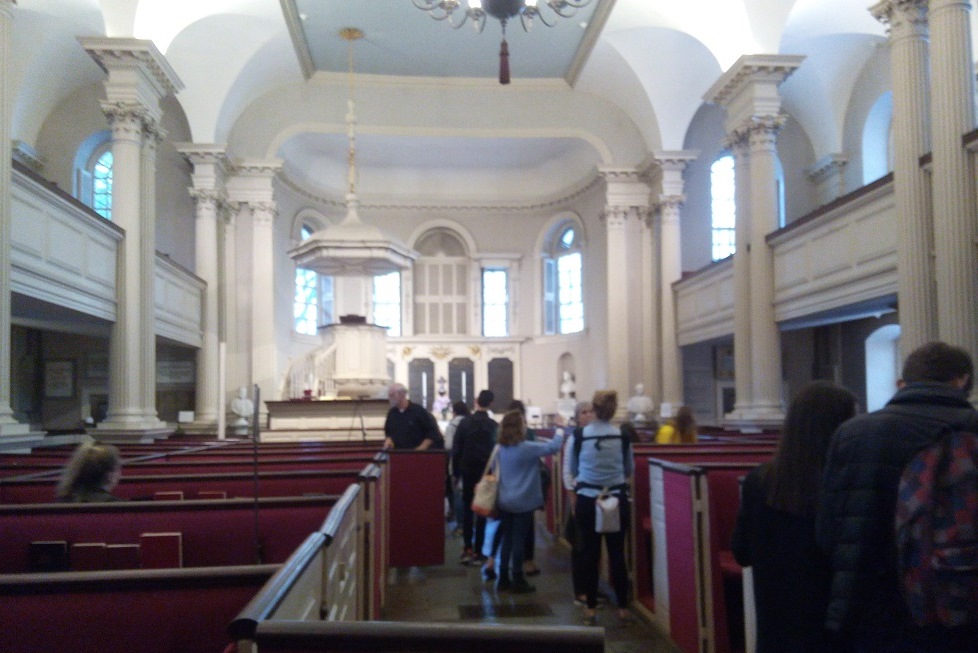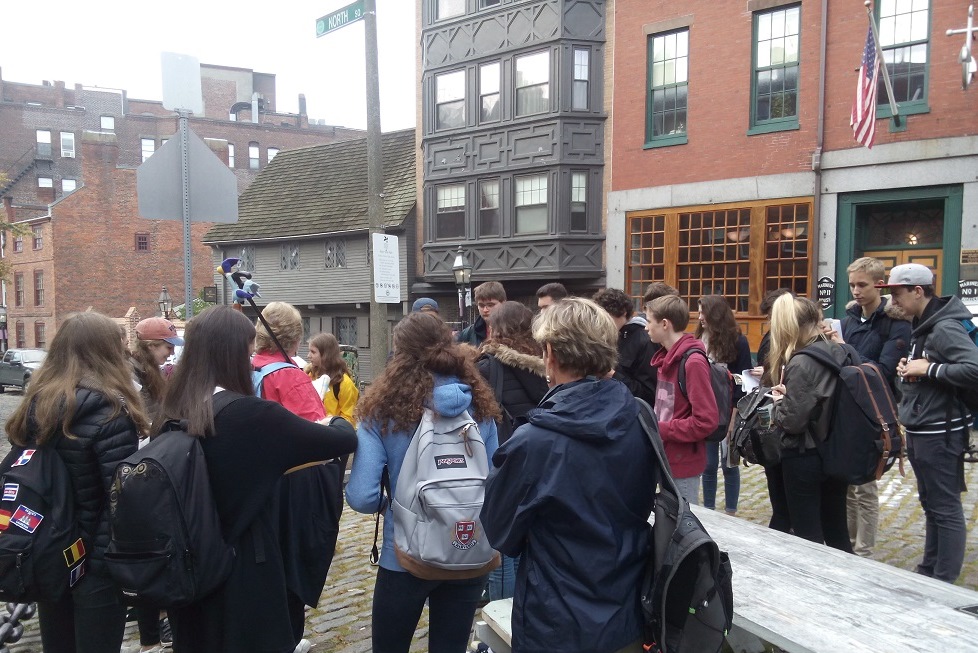 Weekends with families
There isn't a typical American weekend because it depends on the families. Personally and unfortunately, on Saturdays, my host student works in a supermarket so she usually drove me to another student's and we spent all of the day together. For instance, we went to Boston for shopping.
On the first Sunday, I attended her musical's rehearsal and then we had an American breakfast with other French and American students. We finished the day by walking in the woods or hanging out with her friends. I also met her aunt and cousin who come from The Philipines, we went together to New Hampshire State to buy electric devices because they don't pay taxes. It was very interesting to live their daily lives and see what they are like.
By Angèle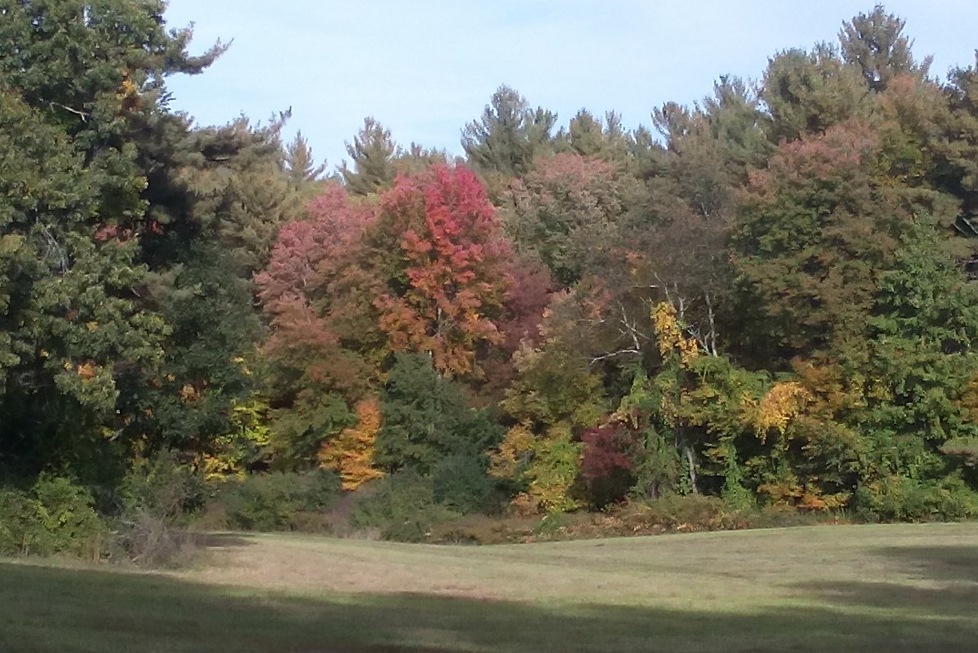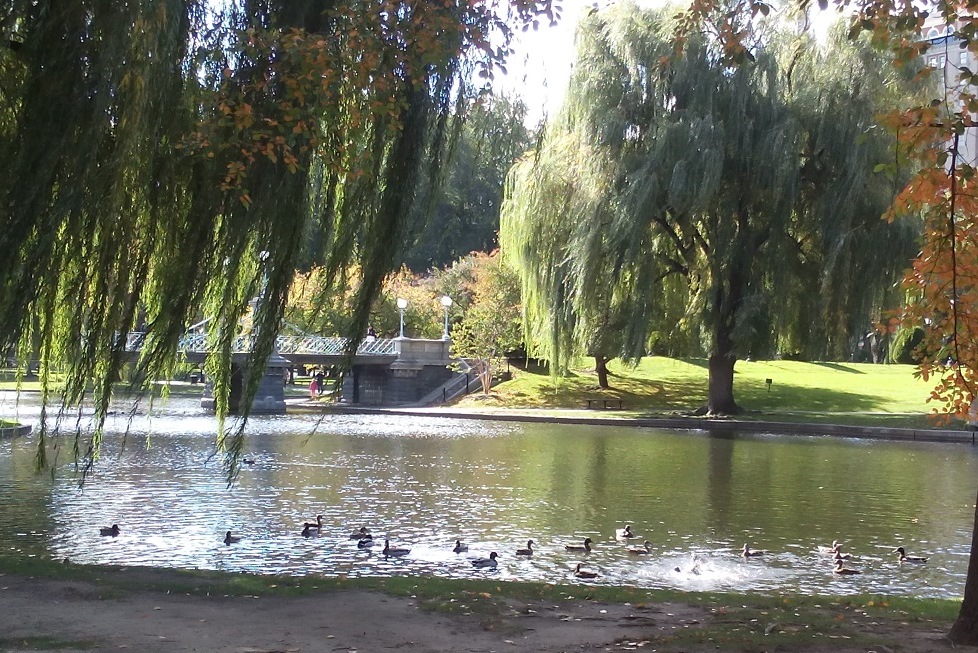 In America I had the chance to discover and to do a lot of great activities. I went to see a play that was about the witches' trials in 1692. It was really interesting to see those events presented in a different way. I also went shopping in what they call the « Burlington mall ». You can find whatever you're looking for there ! It's really different from France.
We ate a couple times at wonderful restaurants. I had the chance to taste great food and to eat in incredible places. The best part of the two week-ends that we spent in Boston was the night we went to ScreamPark. It is a sort of a horror theme park. We ate candy apples and did rides with everyone. I really enjoyed that night.
Being in a host family was an incredible experience and I'll recommend it to everyone. Boston is a great place to visit !
By Alice
I don't think there is a typical weekend in America. Personally the family did everything they could so that I was not bored. I did typical things like a Thanksgiving dinner and other American meals such as burgers and chicken bites preparing for Halloween (carving the pumpkins, looking for costumes…). I also went to a hockey game of a college near Billerica (big screens, shows during the break…). When my host student wasn't at home for different reasons I went to the houses where other « franchies », as they like to call us, were living to have fun. We also did teenagers'typical activities like chilling or playing video games. This was really a super experience. »
By Gustave
School days
On the first day of our trip in the USA as well as on Thursday 20th and on Monday 24th, we went to school and we followed our host student from 7.15 a.m. to the end of school at 2.00 p.m.
We attended all kinds of classes like English, Algebra, French, orchestra, chemistry… and even some of us attended Business classes (like Managing), Astronomy or Engineering !
The similarities with American and French schools are very few. They have athletic fields, the same subject as us but the schedule and teaching are different.   The French system and American school are similar in that the atmosphere between students is good. Our opinion on those three days spent at school is that school in the USA is very different from the French system and from our school. First of all, to go to school, American students take the Yellow school bus. Furthermore, the high school we went to, Billerica Memorial High School, is much bigger than JP2. In the American high school system, there are 4 grades : freshmen, sophomore, junior and senior while in France we have 3 grades, in fact, the American students start high school one year before French pupils.
At the beginning of the school day, the American students say the Pledge of Allegiance aloud,  this is a way to show their dedication to their country.  « I pledge allegiance to the Flag of the United States of America and to the Republic for which it stands, one nation, under God, indivisible, with liberty and justice for all. »
Students start their day very early (7:15 am) and school ends early too (2:02 pm) and because of that they don't have any breaks during the day. But because of their schedule, the students have more time to devote to sports such as swimming, football, soccer, basketball or others. In America, sports are very important and can allow students to get a grant.
They have 4 mandatory classes (Social study, Maths, English and History) and then, they can choose 4 other classes like Astronomy, Orchestra, Fitness, Zoology, Theater and among many others. To graduate they have to have 35 credits, but sometimes some of them graduate and one of their classes is not validated so they have to take this class the next year again. In the classrooms there are mostly individual desks so it's different from our school. Some teachers let their students eat, drink and use their phones during the classes, the teachers are very friendly !
By Lou, Victoire, Thomas